Jointsol® is a unique patent applied product combining the stimulatory effect of collagen hydrolysate on cartilage growth with the anti-inflammatory effect of the special aqueous extract of rose hip. This product offers completely new options for treating and preventing the causes and symptoms of joint and osteoarthritis, which is cartilage loss and inflammation.
According to clinical results which showed the rose hip and collagen hydrolysate separately in patients suffering from arthritis and considering the special activity of the rose hips extract and the collagen hydrolysate used in Jointsol® , researchers wanted to demonstrate that the association of these two substances had a synergic action on the inflammatory process and on the action of different metabolites involved in the degradation of the collagen matrix.
Jointsol® has an anti-inflammatory action higher than the powdered rose hips used in the clinical studies. This anti-inflammatory action is produced by the inhibition of the pro-inflammatory substances released, such as the interleukin 1β (IL-1β), the interleukin 6 (IL-6) and the alpha tumoral necrosis factor (TNF-α), the release of prostaglandin E2 (PGE2), graphic 1, and the enzymatic activity of metalloproteinases (MMP-1 and MMP-3).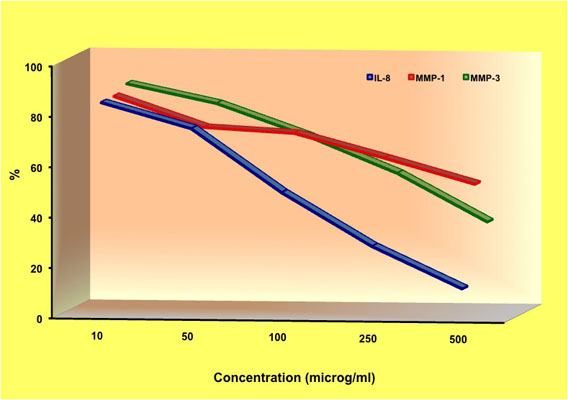 Graphic 1. Inhibitory action of different Jointsol® concentrations on the production of pro-inflammatory cytokines such as IL-1β, IL-6, the tumoral necrosis factor and the prostaglandin E2 (PGE2)
People suffering from arthritis treated with non steroidal anti-inflammatory drugs, such as ibuprofen and diclofenac show a reduction in PGE2 release, which means a mitigation of the inflammation and reduction in pain.
On the other hand, metalloproteinases (MMPs) matrix is involved in the cartilage collagen degradation being able to produce a pathological damage on joints with no processes occurring on the regulation of these enzymes activity.
There are two main metalloproteinases which are important for this degenerative process, MMP1, which is responsible for the direct degradation of the collagen matrix, and MMP3 which strengthens the action of other collagenases/proteinases. In the human chondrocytes tissues in vitro, Jointsol® has been capable of inhibiting the release of the two metalloproteinases and interleukin 8 (IL-8), a mediator in the inflammatory activation process of metalloproteinases (Graphic 2).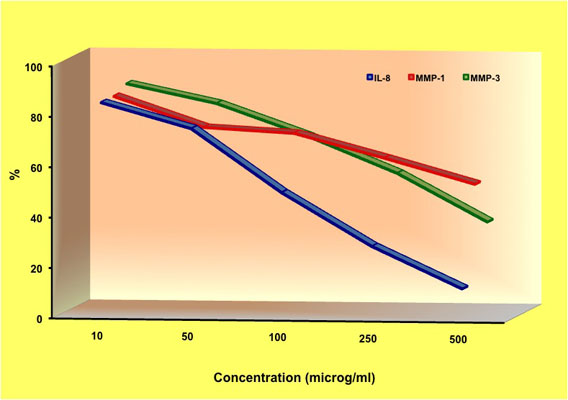 Graphic 2. Inhibitory action of several Jointsol® concentrations on the production of metalloproteinases (MMP1 y MMP3) and interleukin 8 (IL-8)
Continue